~~~~~~~~~~~~~~~~~~~~~~~~~~~~~~~~~~~~~~~~

Mark Twain


An album by the Apollos, Choir of the Missouri Athletic Club
David W Thornton, Director

The performance date and other particulars of this work are unknown.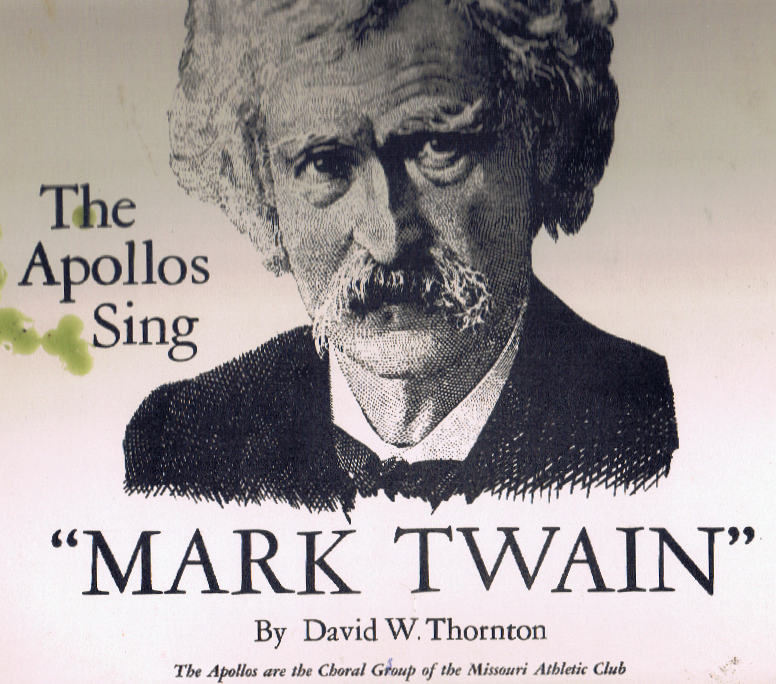 6-16-2012 -The file is a non-professional conversion, and as such, is non-enhanced. You hear the "air noise", the hum, the ticks from a scratched record, even an occasional cough that exists on the source record. Current technology may deem the old methods lacking, but in my opinion, few artists today create and present works that are comparable to this.
SIDE 1 - MARK TWAIN
Track 1, Mark Twain (Title Song) Life Is A River
Artist - Ted Eggerding
Track 2, Annabelle From Hannibal
Artist - Charles Burmeister
Track 3, River Rollin' Past My Door
Artist - Ron Krueger
Track 4, Country Ham & Red Eye Gravy
Artist - The Apollo Quartet with Gene Felt, Banjo Accompanist
Track 5, Remember When
Artist - Bill Casey
Track 6, Gotta Make A Buck
Artist - Don Ware

SIDE 2 - MARK TWAIN
Track 7, America, My Homeland
Artist - David W Thornton, composer, directing the Apollo Choir
Track 8, Medley - from Fiddler On The Roof
Artist - Orchestra and Chorus with W. J. Dougherty, Narrator
Selections - Tradition, Sabbath Prayer & Matchmaker


Track 9, If I Were A Rich Man
Artist - Harold Whitne
Track 10, Sunrise Sunset
Artist - George Ober
Track 11, Wedding Dance To Life
Artist - George Frangoulis
Track 12, Anatevka
Artist - Apollo Chorus
Track 13 - Tradition (REPRISE)
~~~~~~~~~~~~~~~~~~~

"Thanks to Tom, of the directors family, for the loan
of their L P Album which is the source of this reproduction".