Effe Henderson Thorpe b. 7-17-1876, d. 5-20-1976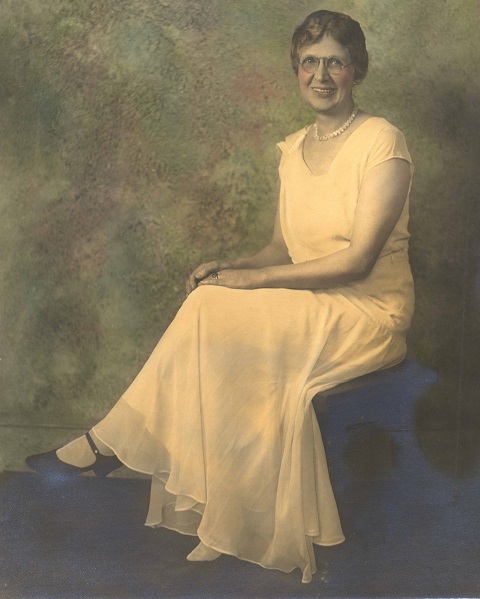 (photo enhanced by Joe Yarbrough, from Marcia)
Our (my) Great Aunt Effe was the second born to the union of Benjamin F. Thorpe and Lydia Henderson. Her father was part owner in a business at Greenfield at the time of her birth, but at an early age she, and her three siblings, were left fatherless. One account states that her father "returned from Kansas, having laid claim to property at that place"? Nothing, concerning his livelihood, beyond that statement has been brought to my attention.


Lydia, a school teacher, raised the children and at the appropriate time, moved her family to Carlinville, IL. where they could achieve higher education at Blackburn College. I have no other knowledge than Aunt Effe remained nearby her mother until her death? We know that soon after the death of her mother, she spent time in Japan.


Rough times @ home
Also surviving grandma Lydia's death was her son, Edwin Lemon. To the union of Edwin, born 3/30/1880, and wife Edith L., were born 3 sons:

Columbus Wheeler, b.1904 m. Doreen
Everett Edwin, b.1906 m. Imogene Hayes
and: Frank Robinson (Bob) Thorpe, b.11/11/1907 m. Hulda Armstrong 1931
Bob and Hulda had 4 children: Three boys Bobbie, Kenny and Larry and one girl, Nancy. Two boys died in infancy and Larry passed away at mid-life. Nancy (Thorpe) Feraldi resides in the southwest U.S. now - as I recall?
To Larry and Alberta (Turner) Thorpe were born Sandra and David. This photo of Bob Thorpe, his daughter in law, Alberta, and his granddaughter, Sandra (Thorpe) Hobkirk was captured in Raymond, IL. on the occasion of the memorial service for S W Thornton b.1903, first cousin to Bob.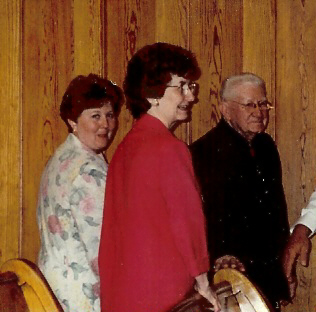 ~~~~~~~~~~~~~~~~~~~~~~~~~~~~~~~~
This photograph was captured at the home of Edwin Henderson, seven miles northeast of Greenfield. It is my understanding that the young lady is Orsa O'flyng, the tall lady is Aunt Effe, and the elderly lady is Eliza (Williams) Henderson? This beautiful home, built prior to the civil war, stood until the turn of the century when the maintenance of the foundation became too expensive for the owners to consider.


In later life, Orsa O'flyng moved to a western state and Aunt Effe spent time in Japan as an educator in some capacity. The following letter indicates the close relationship these two had developed in their younger years.


FYI: My understanding is that Orsa O'flyng became step-sister to Eliza (Williams) Henderson when Orsa's widowed mother married Uncle Billy Williams several years after the death of his wife, Lydia (Whitehurst) Williams. This record may surface later?

~~~~~~~~~~~~~~~~~~~~~~~


The sisters, Effe and Eliza, spent many of their latter years living in the house, which had been the home of their cousin, Ray Steckel, and his wife, Lena. Vince and Elsie (Thornton) Marquess also lived in this home when first married. The two are seen here, at home, in a very familiar pose.


Here we see the two on Sunday afternoon with their dear friend, Nellie Argall, after having enjoyed a dinner served up by Marcia (Yarbrough) Thornton.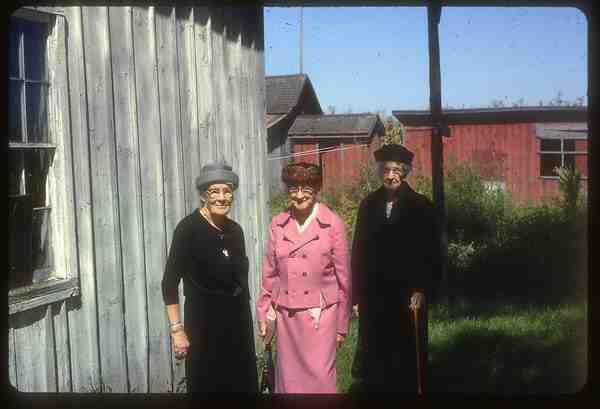 Here Aunt Effe is visiting with an old friend, Ms. Barnett (first name escapes me) in the dining room at the manse in Greenfield. (I think this foto has been reversed in editing?)


The location of the following foto is unknown to me.


As stated elsewhere my memory leaves questionable some circumstances and events in life, but I have a story of my very dear great Aunt that will forever remain clear in my memory. I must state initially that I do not remember the year, but Aunt Effe asked me if I would take her to view the Williams / Henderson cemetery, which was located at that time, on the land settled by her great grandfather, "Billy" Williams. (This is the cemetery that, later, was desecrated).
My first question was; "where is it located? You see, at that time I knew what and where the Henderson place was, but I had no idea of the connection to the Williams name. When she stated it's location I realized I knew the site, but did not know the history.
I do not remember the year, but it was possibly 1965? She would have been 88 years of age. I am certain it was not prior to 1961!
As usual, she was always a lady - wearing a dress, hose, those 1+inch heels, very properly attired for anything of a social nature, but not really appropriate for cemetery viewing - we went to view the burial site of her (our) ancestors at the Williams home place.
The burial plot sat approximately 200 feet from the public road in a fenced pasture. There was no gate nearby and a deep road ditch to cross prior to the fence. These obstacles did not deter her desire to view and recall, in that atmosphere, the relationship she had with several of those interred there.
We carefully crossed the ditch and I assisted her in climbing through the fence. Having accomplished the first hurdle we face the second fence surrounding the plot. This was overgrown with weeds and briars, but now, knowing her determination at the first obstacle, I too was determined to complete this mission, regardless of the inconvenience.
It was pure joy to clean a marker of poison ivy or vines and hear her speak of the individual memorialized there. Although we did not (as I recall) locate any marker for the black men who accompanied "Uncle Billy" to Illinois, there were several family member markers located she had known personally.
We reversed our course and conquered again the obstacles which confronted us without a major scratch or runner.
At that time in my life I had been much too busy to give thought to my family background, but witnessing the love Aunt Effe displayed that day for her forefathers gave me a new outlook on genealogy. She will always be forefront in my mind when giving thought to those who came before. Often I wish I had taken the time to sit with her, following that excursion, and made a record of her relationship with those she recalled on that day.
My having the knowledge gained in this outing had no influence on the fact that at a later date the burial site would be completely demolished by mechanical means.

~~~~~~~~~~~~~~~~~~~~~~~~~~~~

For assistance in locating the grave site, go to: Oakwood @ 62044


~~~~~~~~~~~~~~~~~~~~~~~~~~~~~