Williams According to some researchers, our Williams family cannot be traced further back than North Carolina in 1791. William White Williams b. July 9, 1791; d. Dec 28, 1884, was born in North Carolina near the Virginia line. It is recorded that he was orphaned as a youth, and at 17 he moved to Winchester, KY where he met Lydia Whitehurst b. Aug. 13, 1786; d. April 19, 1858. While living in Kentucky, six children were borne to this union:
1) Mary Ann Williams b. April 25,1818; d. April 30, 1848 Greenfield, m. John Waller Mar. 9, 1834 Greene County.
2) Eliza J. Williams b. June 22, 1820; d. Sept. 12, 1905 Greenfield, m. Edwin Henderson Nov. 23, 1839 Greene County.
3) Martha E. Williams b. May 8, 1822; d. Feb. 18, 1918 Morgan Co., m. 1) George W. Reed Mar. 4, 1840 Greene County. After he died in 1850, she married Wm. Jones Metcalf July 10, 1853 Greene County.
4) Newton Williams b. July 18, 1824; d. June 18, 1850 @ McKindree College, KY. (drowned)
5) Milton W. Williams b. Oct. 29, 1827 Lexington, KY; d. April 3, 1898 Citronelle, Mobile, AL., m. Elmira Adeline Edwards Jan. 1, 1851 Greenfield, IL.
6) William H. Williams b. abt 1830; d. April, 1850 @ McKindree College, KY. (inflammation of lungs)
The family moved to Morgan County, IL. in 1831, then to Greene County in 1833. While a resident of Morgan County William began purchasing land in Greene County. In Jun 1831 William purchased two tracks of land in Rubicon Township, approximately 5 miles northeast of Greenfield, one for 80 ac in Sec 36 and the other 160 ac in Sec 24, which he intended to farm. In Dec 1832 he added 20 ac in Sec 25. In the year 1833 William moved his family to the homestead prepared in Sec 24 where they remained throughout their life. He continued to purchase land until it was said, "so all together the farm was 981.11 ac".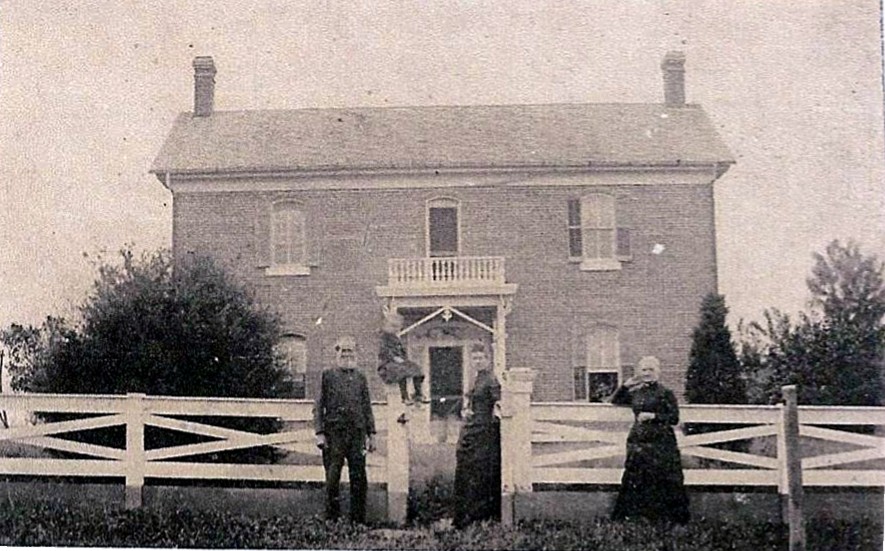 Lydia Williams died in 1858 and was buried, along with those of her family who preceded her in death, in the family burial site on the homestead. Upon his death in 1884, "Uncle Billy" Williams, as he became known, was laid to rest at her side.


The burial plot referred to was desecrated when land use turned to grain production. The perimeter fence was removed and eventually, in the name of conservation, the grave stones and markers were pushed over the creek bank and buried. Along with several others, the memorial to Wm. W and Lydia Williams was recovered as seen here.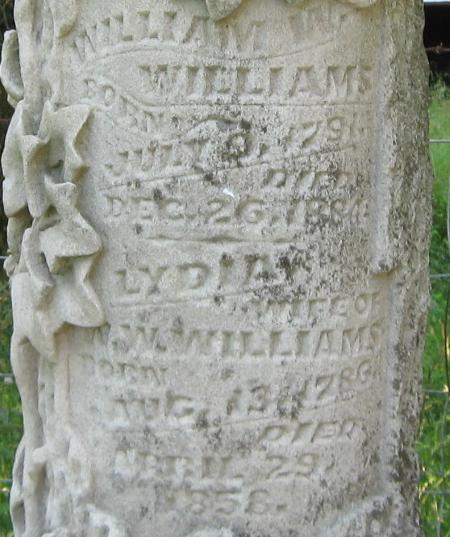 The

recording of this stone by Karen Barnard and Mary Hilman states:

Wm. W. Williams born - July 9, 1791 died - Dec 26, 1884
Lydia, wife of Wm W. born - Aug. 22, 1786 died - Apr 29, 1858




After Lydia's death William married Mariah O'Flyng on 7 Nov 1860 in Greenfield. Her husband, Felix O'Flyng had passed away Sept 16, 1849.

~~~~~~~~~~~~~~~~~~~~~~~~~~~~




Heirs of Wm W Williams living in Greene County, as of January 1, 2015


Eliza J. Williams m. Edwin Henderson line:
Lydia Suzanne & Isabelle Grace – daughter's of John / Susan (Thornton) Lansaw
Annabeth Catherine – daughter of Joe / Melanie (Plogger) Thornton
Brooke Elizabeth – daughter of Josh / Sara (Chapman) Thornton
Allison - daughter of Sam lll / Tracy Thornton

Martha E. Williams m. 1) George W. Reid, then 2) Wm. J. Metcalf line:
Robert Langley - (Williams/Metcalf heir)


~~~~~~~~~~~~~~~~~~~~~~~~~~~~

Milton W. Williams m. Elmira Adeline Edwards
All data and the image of the home used in this sketch is taken from the research of Betty G Silvey, Baton Rouge, LA., a great granddaughter of Milton W. Williams and author of this sketch.


>>>>>>>>>>>>><<<<<<<<<<<<<<<


4-13-2015