Martin Thorpe, was born in Drax, Yorkshire, England, Nov. 23, 1814, to William and Ann Petty Thorpe. He was left alone when quite young due to the untimely death of his parents. At the age of 14, he embarked for America in company with Adam Allinson, where they became residents of Morgan County, having located west of Jacksonville. Martin remained with Mr. Allinson until he became of age, in consideration of the amount of his passage money and a horse, saddle, and bridle; then hired to Mr. Allinson two years -- first year, $10 per month; second year, $12 1/2 per month.
In February, 1843, he was united in marriage to Hannah Hembrough. Prior to her death in 1845 she gave birth to a child, William H., born July 3, 1844, who later became a resident in Missouri.
Subsequent to this marriage, he rented for two years of Mr. Allinson, then moved to Apple Creek Prairie, near White Hall, where he expected to stay for good, but after contracting for some land, the trade not being consummated, he then, in 1846, settled on the place he now owns in Sec. 23 of Rockbridge Township.
After his location, he first bought 120 acres, and began work with a right good will. He added to it until he held 600 acres of choice land; also 440 acres in Cass County, Missouri. He was a farmer and stock-raiser, was engaged in stock-trading during his latter years, and in this capacity was of much service to the county.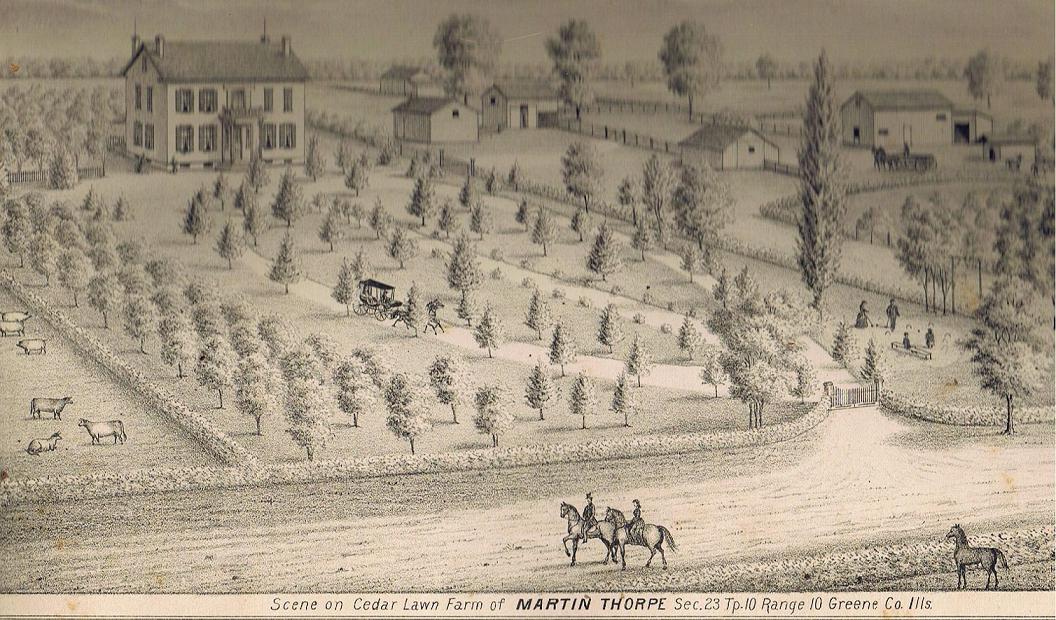 This depiction taken from a Greene County plat book.

Martin Thorpe was united in marriage to Mrs. L. N. Bibb on

October 7, 1847. Five (5) children have blessed this union.
1) James Hardin, born July 9, 1848, m. Mary V. Bowman;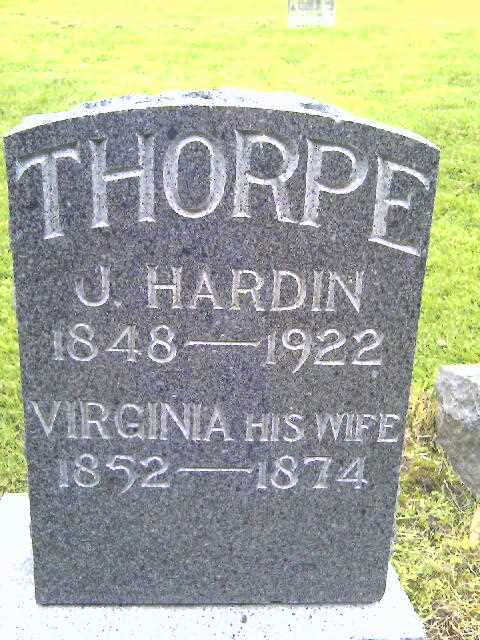 This is a family cemetery located in Linder Twp.,
Greene Co., on land registered to the Bauer family.
~~~~~~~~~~~~~~~~~~~~~~~~~~~~~~
2) Benjamin F., born April 30, 1850, m. Lydia Henderson;

Ben Thorpe, son of Martin Thorpe, Greenfield, married Lydia Henderson, May 31, 1873. He purchased the Cato interest in Secor and Cato's grocery of Greenfield on March 13, 1875. The Whitehall Register also states that on December 22, 1877, Ben Thorpe returned from Kansas where he had opened a claim.

Four children were born to this union, but in Ben's absence, were raised by Lydia alone. No account of his adult life has been passed down to the family.


1) Eliza Willia, m. Jesse Blackburn Thornton;
2) Effe Henderson Thorpe
3) Edwin Lemin, m. Grace Naomi Wheeler
4) Frank Robinson Thorpe

Lydia is interred with the two unmarried children at Greenfield, Greene Co. IL.

Oakwood Cemetery
Lydia with son, Frank R., and daughter, Effe H. Thorpe
3) Mary A., born February, 1852; m. James Greaves;
4) Sarah Allinson, born Oct. 1854, m. G B Metcalf;
5) Maria Otis, born Feb. 10, 1856, m. Ebert K. Metcalf.

A notice in the Carrollton Patriot states: "Ebert K. Metcalf and Miss Otis Thorpe, daughter of Martin Thorpe married October 7, 1880, at the bride's home south of Greenfield".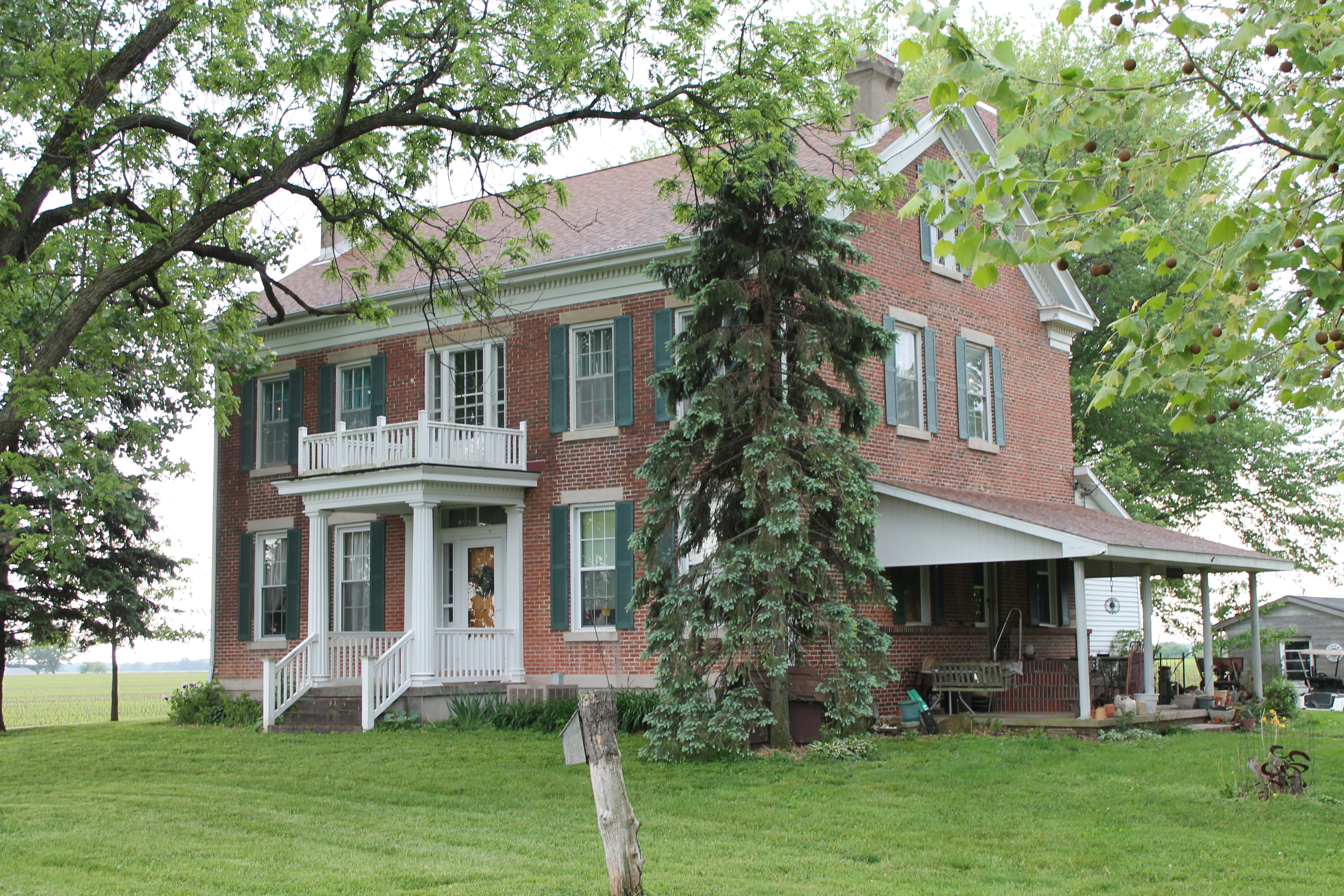 Home built by Martin Thorpe, date unknown.
Current (April 2015) owner /residents - Jim and Wilma Davis
As published in a Directory of Rockbridge Township, testimonies to the life of Martin Thorpe include the following: "he was highly respected for his commercial honesty", "his word was as valid as his note" and, "he was prominent among the residents of the township who are self made and industrious".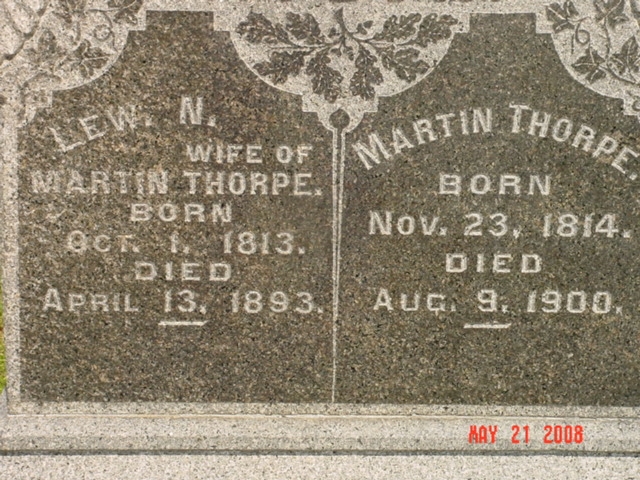 A Carrollton Patriot notice states: "Louisa, wife of Martin
Thorpe, died at Greenfield April 17, 1893, at the age of 52
.
Descendants of Martin Thorpe and L. N. Bibb living in Greene County as of 1 Jan 2015:


Allison Leigh - d/o Sam III and Tracy Thornton;

Annabeth Catherine - d/o Joe and Melanie Plogger Thornton;

Brooke Elizabeth - d/o Josh and Sara Chapman Thornton;

Lydia Suzanne and Isabelle Grace - d's/o John and Susan Thornton Lansaw.
~~~~~~~~~~~~~~~~~~~~~~~~

Compiled with assistance and research of Betty Silvey, David Vander Plaats & others.
submitted by:
Douglas E. and Shirley Albrecht Thornton