Henderson, James
It is stated in the "1879 History of Greene County", and repeated in the "1885 History of Greene and Jersey Counties, that: "James Henderson was the 1st to make a claim on land north of Apple Creek, in this county (then Madison), which was in August of the year 1818."
He was born in Hunterdon County, New Jersey, March 9, 1783, the youngest of 10 children. His father's name was Edward, and of Protestant Irish descent. At the age of 21, he went to Virginia, remained there 2 years, and then went to Ohio, where he married Mary White, born October 25, 1787.
In the early part of the year 1818, they were living six miles east of Circleville, Ohio, nearby Mary's parents, where their children, then six in number, were born. Mary's sister, Eliza White, had recently married Levi Reeder, they being the parents of one child.
Luther Prentice Allen, son of Carolyn Henderson and George W Allen, and grandson of James and Mary Henderson, who authored the "Genealogy and History of Mercy Shreve and James White" (his grandmothers family), gives us the account of the children and activities of the Henderson family.
1) Caroline Henderson; born, October 13, 1808; married George W Allen January 3, 1828. (George Allen is recognized as the 'founder' of the city of Greenfield, Greene County Illinois)
2) Hope Henderson; b. February 22, 1810; m. 1st Rev. Amos Prentice and 2nd Rev. Braxton Parish.
3) Nathaniel Henderson born December 25, 1811; married 1st Martha Bacon, 2nd Mary Ann Daly.
4) Thomas Henderson; born April 15, 1813; married Eliza Estes.
5) Edwin Henderson; born June 15, 1815; married Eliza Jane Williams.
6) James W Henderson; born February 10, 1817; married Elizabeth Peters.
On the 7th of May, 1818, James Henderson purchased an interest in a keelboat, on which to move his young family to the territory of Illinois, then the limits of Western civilization, where land was rich and cheap. In this they embarked with their family, the family of Levy Reeder, and several prospectors to make the voyage down the Sciota and Ohio Rivers to Cairo, Il., then up the Mississippi to Madison County. From Cairo the boat was "cordelled" upstream a distance of more than 160 miles. (The cordelle was a rope, often several hundred yards long, by means of which men towed boats up stream. The rope was not attached at the bow, but near the midpoint of the vessel for effectual steerage)



A depiction, suggestive only, of a keelboat with one mast.


On the 4th day of June, 1818, they arrived at the mouth of the Wood River, a few miles east of Alton. Here they passed the summer, fall and winter of 1818. On December 4, 1818, the 7th child was born to Mary Henderson, named Mary for her mother. During this period the family decided to move farther north where, in the summer of 1818, James had selected and laid claim to the location. Accordingly on the advent of spring they started overland by ox team, locating at a point north of Apple Creek. Madison County then extended over that territory, but subsequently was divided and the new county was named Greene. Several years later the town of White Hall was surveyed and platted, 2 miles distant, north.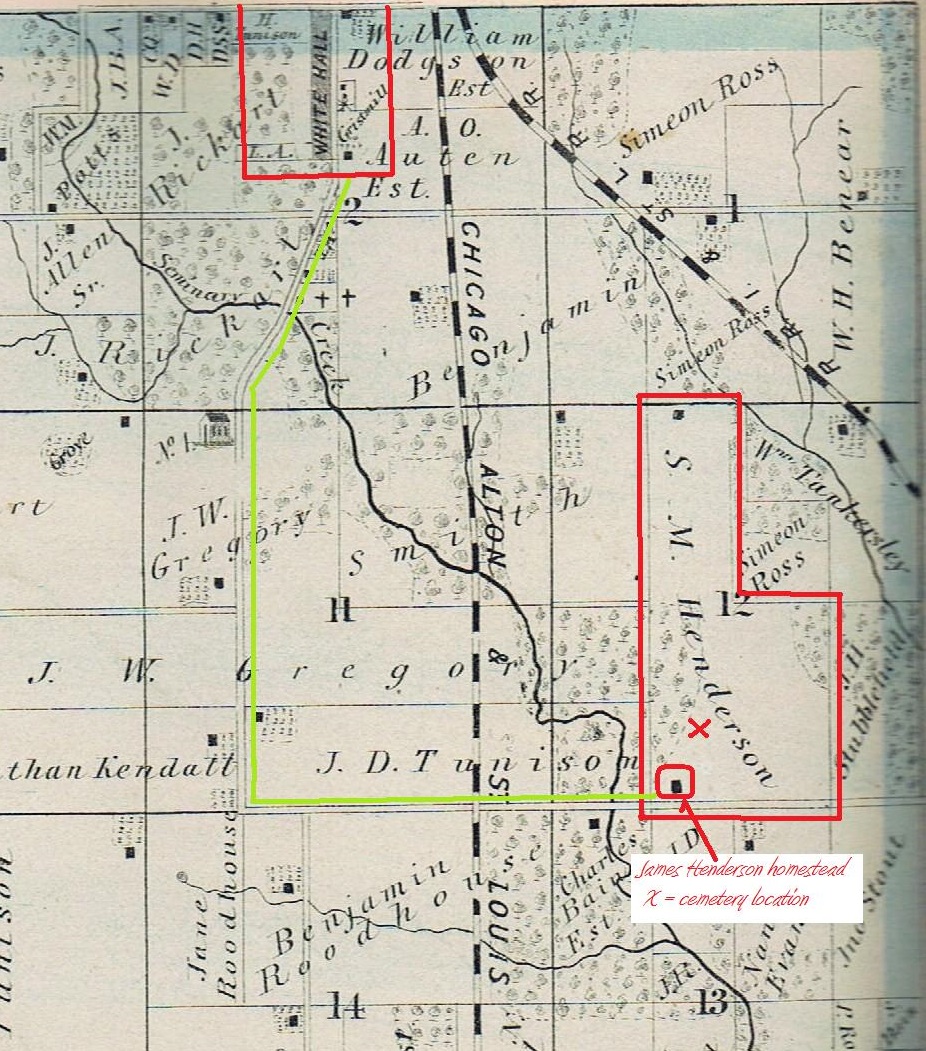 Location of homestead in Sec. 12 of, what is now, Whitehall Township.
The 1st cabin was built of logs, mud pointed, was 16' x 16', with a dirt floor and no loft. There were no windows, and only one door.
7) Mary; born near Alton, Illinois. December 4, 1818, died at Whitehall Illinois, age 9 months.
The next year the 2nd cabin was built, with a stick chimney at each end, an improvement over the 1st in size being 16' x 24', and having a punchion floor, a window, and a loft available for sleeping. The remainder of the family were born here and here they lived until 1827.
8) Perry Henderson; born December 6, 1820 married 1st Ellen Williams, 2nd Mrs. Brewster.
9) Amy Ann Henderson; born October 29, 1822 married Thomas J Robinson.
10) Safety McGee Henderson; born June 10, 1826 married 1st Kezia J Williams 2nd Lucy Gray.
11) Franklin Henderson; born September 15, 1828 married Sarah Metcalf.
In the spring of the year 1827 a more commodious and modern home was erected; in size 18' x 32', built of hewn timber, a brick chimney at each end. It had large doors and many glass windows, and the floors were of ash and hackberry.
This artist depiction taken from a Greene County Atlas, which
was published cir. 1880. This home completed by Safety Henderson.
James Henderson gave names to the several streams, names which they still bear. "Wolf Run" was so called because he had seen a large black Wolf on its bank and killed it. Another named "Crooked Run," as streams in his native state were called "runs." "Bear Creek" was so named as a very large bear was seen in its vicinity. A stream near his own home was called "Henderson Creek" from himself, afterward became known as "Seminary Creek".
The year 1846 found James Henderson, and Mary, his wife, aged respectively 62 and 58 years, with 10 living children, ranging in ages from 41 to 18 years, all married, excepting the 2 younger boys. They enjoyed the fullness of well spent lives, devoted to home and children, ever contributing to the advancement of morality, religion, and education to their fullest ability. They continued to reside on the homestead they had owned for over thirty years until their deaths, which occurred in 1849, only two weeks intervening. Upon death they were interred on the homestead with other family and friends.

Memorial's of the pioneers, James and Mary Henderson.
~~~~~~~~~~~~~~~~~~~~~~~~~~~~
Heirs of James and Mary Henderson living in Greene County, as of January 1, 2015, from the
Edwin Henderson m. Eliza J. Williams line:
Lydia Suzanne & Isabelle Grace – daughter's of John / Susan (Thornton) Lansaw
Annabeth Catherine – daughter of Joe / Melanie (Plogger) Thornton
Brooke Elizabeth – daughter of Josh / Sara (Chapman) Thornton
Allison Leigh - daughter of Sam lll / Tracy Thornton
>>>>>>>>>>>>><<<<<<<<<<<<<<<
The home, once occupied by members of the Henderson family, continues as a properly maintained residence by it's current owners, as shown in this 2008 photograph.

Submitted May 2015 by: Sam Thornton Jr.
Henderson heir and resident of Greene County, IL.,.